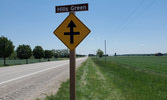 Historic Settlements in Huron
Huron County's landscape was once peppered with far more communities than it has now. It seems like every crossroads has a story to tell. Some of these communities were nothing more than a post office or railway siding, while others were thriving villages.
The County of Huron is striving to keep our historic settlements visible with commemorative signage along our county roads. The signs are far from complete, but an indication of the colourful past that has shaped what our region looks like today.
The 23 communities that are currently identified by brown community signs have left their mark, whether by a road name, a pioneer church or cemetery or just a story that is part of the local lore. Long-time locals still have a penchant for using the historical names of corners when giving directions, so you just might find the brown signs handy for finding your way.
Ainleyville - The original name of the town of Brussels, it is named after the original settler who laid out the town plan on the banks of the Maitland River while the post office was named Dingle. Both the town and the post office were renamed after the Grand Trunk Railroad came to town and named its station Brussels.
Alma - Kinburn Line (Cty Rd 15) and Highway 8 - Situated between Clinton and Seaforth, there is still a collection of houses in a subdivision that sits there.
Brewster - Dashwood Rd (Cty Rd 83) and Highway 21 - A post office community located just north of present day Grand Bend and named for one of the early settlers to the area. (Grand Bend was also originally called Brewster's Mill.)
Brotherston - Cty Rd 34 and Mud Lake Line S Located on the border of Perth County.
Constance - The original name of the hamlet of Kinburn, located on Kinburn Line (County Rd 17).
Donnybrook - Donnybrook Line (Cty Rd 22) and Glens Hill Rd - A hamlet thrived here from about the 1850s until the turn of the century. At its peak, it was the home to a general store, woodworking shop, a blacksmith, hotel, school, church and an Orange Lodge.
Farhquar - Dashwood Rd (Cty Rd 83) and Sunshine Line.
Fordyce - Donnybrook Line (Cty Rd 22) and Belfast Rd.
Harpley - Grand Bend Line (Cty Rd 81) south of Crediton Road - It once boasted two lumber mills and a post office, but was eventually overtaken by growth of the town of Grand Bend nearby.
Hills Green - Parr Line and Kippen Rd - The town consisted of a post office, store, blacksmith and two churches (Methodist and Presbyterian).
Junctionville - Just east of Wingham on Amberley Rd (Cty Rd 86).
Khiva - Crediton Line (Cty Rd 10) and Bronson Line - This was once the site of a popular hotel/tavern and a blacksmith shop catering to the busy traffic on the popular route between Crediton and Grand Bend. Eventually transportation patterns shifted and the town's fortunes declined.
Leadbury - North Line (Cty Rd 12) and Hullett-McKillop Rd - The historic site of a hotel, store and post office that thrived as a village from the mid 1850s until the early 20th century. The Methodist Church building was moved in 1938 to Walton, where it still serves as the community hall.
Loyal - Blyth Road (Cty Rd 25) and Loyal Line.
Manchester - Historic name of the village of Auburn - The village was founded as Manchester when it was founded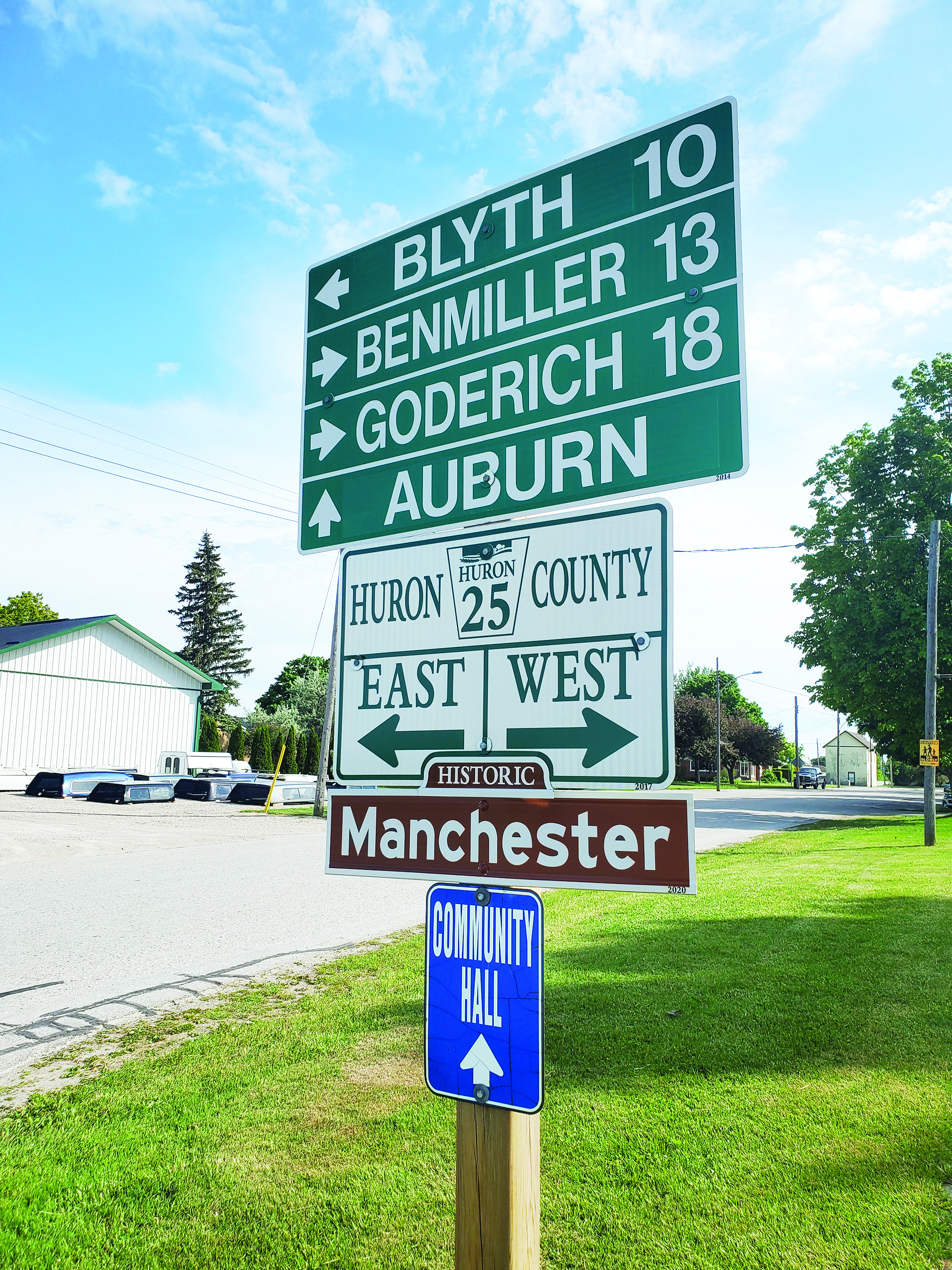 in 1854 and the post office was assigned the name Auburn in the same year. In fact the village was officially named Mancester for all purposes other than mail until it changed its name in 1978 to Auburn.
Marnoch - Belgrave Rd (Cty Rd 20) and Marnoch Line.
Mayne - Cty Road 34 and Fordwich Line - Another corner with a hotel, tavern, post office and store. The post office was closed by 1866 and the village slowly faded. The United Church building was saved and moved to Country Heritage Park in Milton where it is preserved as part of our rural heritage.
McGaw - Lucknow Line (Cty Rd 1) and McGaw Line - McGaw was once a station and siding on the Canadian Pacific Railway line that ran from Guelph to Goderich. The line was abandoned in 1988 and has become a popular biking and hiking trail.
Morrisbank - Amberley Rd (Cty Rd 86) and Brussels Line.
Sarepta - Dashwood Rd (Cty Rd 83) and Goshen Line - The post office operated out of the hotel from 1865 until it closed in 1914. The building was then repurposed as a seed cleaning business.
Sunshine - Morris Rd (Cty Rd 16) and Martin Line See below for full story.
Tindell - Ethel Line (Cty Rd 19) south of Ethel - The community where the Ethel Station and a siding of the Grey, Bruce and Wellington railway situated about one kilometre south of the town of Ethel.
Zetland - Amberley Rd (Cty Rd 86) and Gibbons Line - Surveyed in 1855, this thriving community once had three hotels, a dance hall, a school, two shingle mills, a blacksmith shop and steam sawmill. In fact, Zetland had a post office, a doctor and a school before Wingham.
The list is not exhaustive, as there are even more "dispersed rural communities" than have been recognized with the distinct brown signs to date. The County of Huron has begun the project with the communities that were situated on the roads under their jurisdiction.

Walking on Sunshine




Sunshine – an optimistic name for a place in Morris Township which never lived up to its promise. Now, the only real tangible proof of its existence is the cemetery on top of the hill on the sideroad.
At one time, the thriving community had a blacksmith shop, a combined general store and post office and two churches: Bethel, which was built around 1855-56, and Sunshine Methodist, which was erected as a log house church and then in 1875 a frame church was built and later bricked.
Bethel closed in 1883 and its members were transferred to the churches at Sunshine and Belgrave, until eventually Sunshine closed as well in 1927, and the buildings were sold. According to the local newspapers, the church was sold for $160 and the shed fetched $250.
Sunshine also had a sawmill and a chair factory. The town's main street was gravelled and the stores fronted onto a boardwalk.
Unfortunately, the town's fortunes turned in the 1880s after it had been bypassed by the rail lines that instead ran through nearby Blyth and Brussels, leaving Sunshine out in the cold.
The final factor in the town's demise was the exhaustion of the local timber supply. With no more lumber to supply the mill, it was dismantled and moved in 1888. By 1891, only three houses remained. The post office was finally closed and combined with the Belgrave post office in 1914.