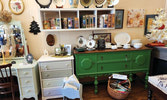 Finds & Consigns
Finds & Consigns, open on Blyth's main street since August of 2021, is a second business for owner Judy Lambers. Her main business is a consulting company called Organize Clear Declutter and was a way for her to combine her organization skills and passion for the environment with her desire to set her own hours when her son was young. As her son grew, the business also grew and she is now helping people declutter their lives full-time.
Much of her business is now helping people deal with clearing estates, averaging 26 cash-and-carry estate sales a year across Huron County. At the end of a sale, there are often items left that, for whatever reason, didn't find the right buyer, but are quality items that will sell eventually. That is where the Finds & Consigns storefront comes into play. Lambers is also an avid thrifter, often finding treasures to add to the store inventory.
All items go through the cash-and-carry sales first, with no pre-sales or holds, in order to preserve the reputation of her sales and attract a large range of customers.
Lambers also uses quality paints that she buys as mistints (again, waste not want not!) and "upcycles" vintage furniture to give it a modern aesthetic.
The items in many of the estates of parents and grandparents are quality items that were built to last, from an era when very little was disposable and much more was manufactured right here in Ontario. She loves finding these local treasures, like the pretty FAB fabric trays that were once manufactured in Barrie.
Every item in the store not only has its own story, but they all evoke stories from the customers who are browsing. They'll reminisce about a favourite set of dishes that their grandmother served every Christmas dinner on or a settee that reminds them of their mother's living room. "I guess it's my personal way of slowing down time," Lambers says.
While the store has regular hours (Wed - Sun, 11 a.m. to 6 p.m.) from March to December, in January, February and early March the hours are by chance or appointment. Follow her on Facebook at "Finds & Consigns" to see what's new in the store, and "organize clear declutter" to find upcoming cash-and-carry events. 428 Queen St., Blyth (226) 979-5323