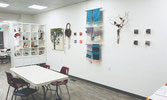 Fashion Arts & Creative Textiles Studio (FACTS)
Winter in Huron County conjures thoughts of cozy days spent at home watching the snowfall or wanders through one of our historic downtowns. But for those who prefer to learn new skills, a workshop at the Fashion Arts & Creative Textiles Studio (FACTS) in downtown Blyth provides a dose of creativity. Gallery owner Jennifer Triemstra-Johnston provided the inside scoop on what to expect this winter.
With a belief that skills training, local resources and local production can help support a sustainable future for practising artisans, designers and communities, Triemstra-Johnston has planned introductory and intermediate rug hooking, punch needle, silk painting and fabric marbling, and macramé classes to keep people busy during throughout long winter months.
Triemstra-Johnston is also planning a historical hand-sewing workshop. "In this workshop one can learn sewing techniques from the Victorian and Edwardian periods that aren't typically used anymore. These can be applied in either fashion, quilting or interior décor items," said Triemstra-Johnston. Past workshops have allowed students to create a pincushion and even a pillow.
Alongside the workshops, the gallery exhibited the works of Kirk Dunn, a knitting artist, and felting artist Sheralea Defreitas as part
of the FACTS Forest Christmas display that ran in December. Triemstra-Johnston is also working on a winter exhibition, but hadn't finalized details at time of press.
For a truly unique souvenir incorporating the history, products, colours and talents of the county, don't leave the county without picking up the wristers knitting kit created by Sharlene Bolen from Stitch Revival Studio available at FACTS. As Triemstra-Johnston explains, "the pattern is based on a pair of gloves from the Huron County Museum, the wool is provided by Steele Wool Farm and dyed with natural dyes at FACTS."
"I believe that the fibre arts, including handwork like weaving, dyeing and various needle arts should be shared between generations and continue as a creative tradition," Triemstra-Johnston said.
Today, the specialist gallery is integrated in the community with its natural dye weekends in September, which offer an exciting experience in creating natural colours from surrounding resources. The outdoor workshops take place at the Blyth Lions Park and the FACTS gardens. "It's a day full of sharing, laughter and creativity," adds Triemstra-Johnston.
So it's no wonder that Triemstra-Johnston chose to set up shop in Blyth after working several seasons as a costume designer with the Blyth Festival. She said she "loved the creative energy found in the county. After working as a consultant for an arts program in Blyth, I discovered a huge interest in fibre art among the community."