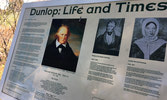 Dunlop's Tomb
Around Goderich and much of Huron County you will see the name Dr. William "Tiger" Dunlop associated with the early days of European settlement in the area. His larger-than-life personality and adventures in India earned him the nickname Tiger and that remains the way most remember him to this day.
In the 1820s, together with John Galt, he laid out the plans for many of the first roads and towns across southwestern Ontario. He is largely credited with the founding of Goderich and was Warden of the Forests for the Canada Company as well as MPP for Huron from 1841-1845. His humour and strong opinions made him a memorable figure. He loved the whole region of Huron County.
However, many do not know that he had planned another town, next to Goderich, north of the Maitland River. He and his brother Robert owned a tract of 845 acres and planned to call the new settlement Gairbraid, after a town in their native Scotland.
The site commands a marvelous view of the mouth of the Maitland River and even today you can see why they dreamed of a town at this site.
Sadly, Dunlop died in 1848 before he could build his town. Though he died in Montreal, his widowed sister-in-law honoured his request to be buried near his beloved home. Today there is a small enclosed cemetery with a terrific view. Both he and his brother are buried at the site along with others.
There are a few ways to access the site of the tomb. From North Harbour Road in Goderich, start on the aptly-named Tiger Dunlop Trail and cross the Menesetung Bridge, following the signs to the location of the tomb. There are a number of steps to climb to reach the small park area where you will find several information plaques and the tomb itself. The views all along the way are spectacular.
You can also access it from north of the river by turning from Highway 21 onto Airport Road towards the lake and then turning left onto River Ridge Crescent. Park at the end of the road and follow the path east to the base of the stairs on the right.
The Tiger Dunlop Trail also connects the Maitland Trail and the Goderich to Auburn Rail Trail (GART).