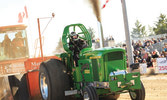 Dungannon Super Pull
The Dungannon Super Pull has been an annual favourite of fans and "puller" alike for over 20 years. Steve Adams, founding member, says that he and his close friend Mike Pentland talked about organizing one for years. Pentland was an avid tractor puller and always lamented that their local fair had only a category for antique tractors and he was sure that a modified category would bring in the competitors and audience. Tragically, Pentland was killed in an accident in 2015 before he could complete the event and Adams knew that he must fulfill the dream for him. It took him about five years to get everything organized but he has now been honouring his friend's memory since 2000.
In fact, it has been so successful that it has not one, but two 300-foot tracks with a beer tent and grandstands that run the length of the track. A dance with a live band was added on Friday night as a kick off event that has proven extremely successful.
It works with both Southwestern Ontario Tractor Pullers Association (SWOTPA) and the Ontario Truck & Tractor Pulling Association as a sanctioned event with 20 classes and around 150 vehicles pulling all day on the twin tracks that run constantly for the entire event.
The committee ensures that it is a family-friendly event with a bouncy castle and face painting to amuse the kids while mom and dad take in the action. In previous years, the Stoneboat Pullers Association has organized a lawn mower pull on Friday nights for the kids.
The event has become a weekend tradition for families, with camping available on the grounds.In fact, the crowds have grown to approximately 5000 fans on the Saturday.
Adams laments that the Dungannon Super Pull has actually outgrown its home at the Dungannon Fairgrounds. In 2023, he is working with the Lucknow Kinsmen to move the event to the Graceland Festival site, which is the home of Music in the Fields.
They will be working hard to build a twin track before the June event. The name will remain and the spirit behind the tractor pull. The only change will be moving to an upgraded site that can better accommodate the larger crowds that they are now drawing.
The event is taking place this year on Friday, June 16 (9 pm to 1 am) and Saturday, June 17 beginning at 4 pm. To pre-book online, visit www.dungannontractorpull.ca Graceland Festival Grounds, 577 Walter Street, Lucknow.