Roadside cuisine
Huron County has long supported the drive-in restaurant, or hamburger stand concept. In fact, two restaurants that popped up in the 1950s are still going strong today.
In an era when franchises with drive-throughs are much more prevalent, these independent operators are still thriving by serving quality food and providing fast, friendly service.
In fact, while food trucks are the hottest trend and we rave about our local chefs creating tasty menus with local ingredients, these entrepreneurs are quietly feeding the masses on steamy summer evenings when no one wants to turn on a stove at home. Huron County is home to six drive-in restaurants that are each decades old. Come along for the tour:
Our first stop is the Farmer's Dell just south of Brucefield, which first opened in 1956. Current owner, Jeff Oesch, has had the dream of owning it for over 20 years, and when the chance came up again last year, he jumped at it. He describes his menu as a "bit different" than the standard burger joint. His menu tries to keep local ingredients prominent. "We have to make this fun and give people a real reason to travel to Brucefield," he says. You will find a different special on the menu every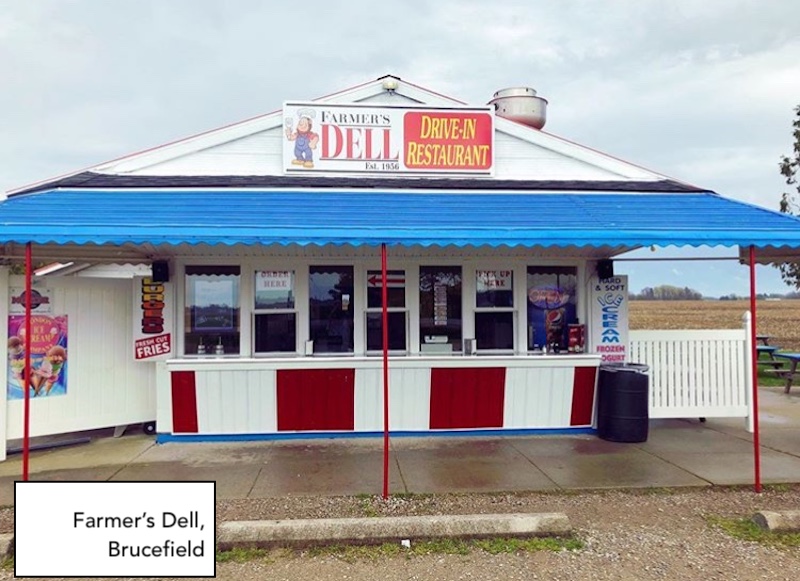 weekend, such as Irish nachos and deep-fried cheesecake. Customers make the trek to Brucefield just for the London Ice Cream Company's hard ice cream that Farmer's Dell serves, but don't forget to try the angry farmer wrap while you are there (shaved ribeye, fried onions, chipotle mayo and jalapeno peppers). Or, if you're up for it, you might order the barnyard burger (six-ounce patty, four-ounce breaded chicken burger, bacon, fried egg and onion rings on a bun). 6 London Road, Brucefield.
Woodland Drive In has sat on the edge of Bayfield for over four decades. The current owners have been building their menu since 2003, and now serve everything from burgers and wraps to fish and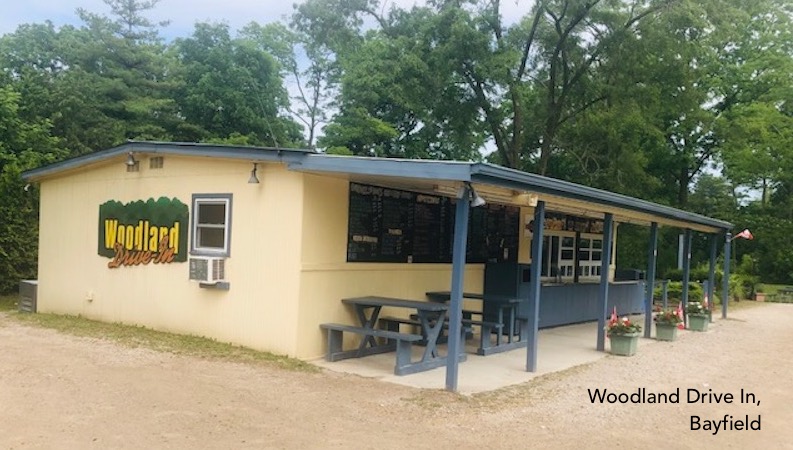 chips. They have frozen yogurt, as well as the traditional soft and hard ice cream. While their burgers are legendary (especially the Woodland burger), owner Jennifer Fuller notes that their poutine is definitely gaining in popularity. "You absolutely have to try the buffalo chicken poutine or our bacon cheeseburger poutine!" 17 Mill Street, Bayfield.
Sky Ranch is nestled next to the Goderich airport, right on Highway 21 just over the bridge. This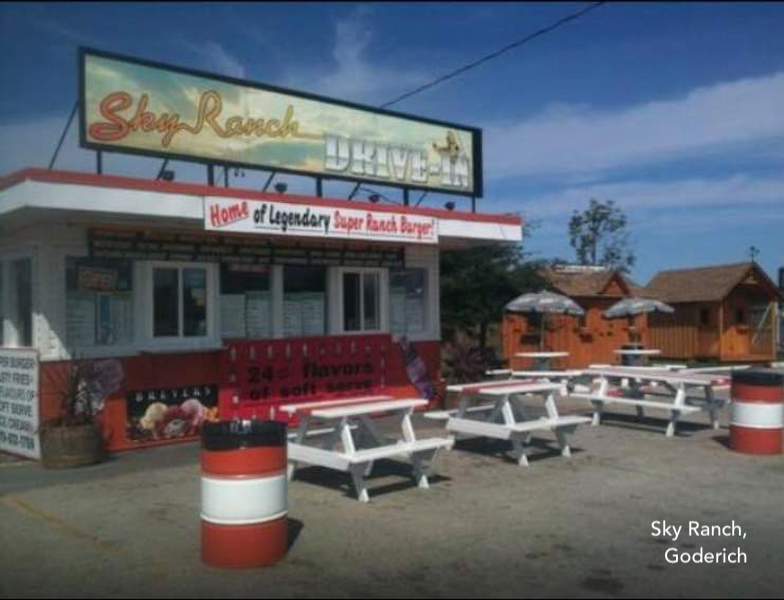 family-owned drive-in restaurant has been serving the same great fare by the same great family since 1967. Josh and Jodi Nurse purchased the business from his father Paul 10 years ago. Their extensive menu features top-of-the-line meats, 52 flavours of soft ice cream and 11 flavours of hard ice cream. The sky ranch burger, cheese fries and a vanilla soft serve ice cream have become a Sunday night summer staple for many locals! 81669 Bluewater Highway, Goderich.
Frosty Queen has been a fixture in Wingham's downtown since Fred Templeton and Murray Taylor decided to jump on the burger stand bandwagon back in 1957. It seemed pre-destined for John Frieburger to be in the drive-in business when he purchased the business in 1994. Their menu is based on the long-standing successful model of serving traditional food well: hamburgers, french fries, chicken fingers, fish and footlongs. But the piece-de-resistance is the soft serve ice cream. They still use real ice cream in their machine, and it makes all the difference. Their restaurant is also seeing a surge in the popularity of poutine. Their secret? Shredded cheese. "It's more flavourful", John says. "Customers only think they want cheese curds," he adds, with a laugh. Over the years, the restaurant has expanded to feature a dining room and now they're also becoming known for their pitas. 143 Josephine St, Wingham.
Freeze King in Seaforth has been around since 1966. While they are a burger stand, the real attraction here is the fish and chips. What makes their fish stand out? We think it's the fresh dipped batter. It keeps their customers coming back, week after week, all summer long. If you're not a "fish person", be sure to try the breastwich king sandwich - breaded chicken breast topped with bacon and cheese. Freeze King is set in a lovely treed area with picnic tables, and white twinkling lights in the trees to provide a unique, relaxing outdoor dining area. 42566 Huron Road, Seaforth.
Willy's Burger Bar is our last stop on this whirlwind fast food tour, and actually the youngest of the stands with only 35 years of history under its eaves. Jason and Gillian Potter took the reins in April 2019. They're not new to the fast food business, as they were long-time owners of a Harvey's franchise in nearby Goderich. They were looking for a new venture where they could flex their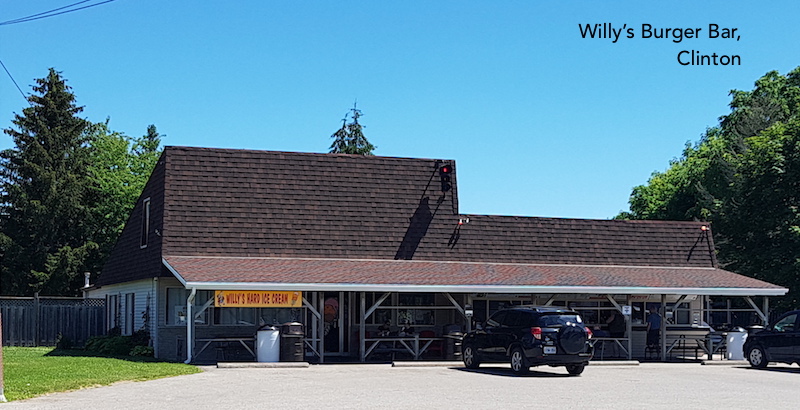 muscle and capitalize on Gillian's marketing expertise. They found that in Willy's, a successful drive-in restaurant that has been a summer staple in Clinton for generations now. While the menu is very traditional, the key to the ever popular willy burger is the bbq grill that charbroils both patties, before they're piled on to three buns and loaded with bacon, cheese and all the toppings. Fish dinners and their wraps are equally famous, but you might be pleasantly surprised if you try the sammy dog or upsize it to a superdog (also has cheese and bacon, but in a foot-long version). Improvements are in the works with new playground equipment scheduled and the Potters are hoping to re-open the dining room in the near future. 267 Huron Street, Clinton.