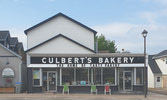 Culbert's Bakery
You'll know you've arrived at Culbert's Bakery not only by the smell of fresh pastries wafting through the air, but by the long lineup that snakes its way out of the West Street building and down the street towards Goderich's historic main street. And that's not just because of capacity limits caused by COVID-19.
Culbert's Bakery, in business since 1942, is best known for its powdery round cream-stuffed donuts that draw the locals in, and also visitors from far and wide. While the bakery claims to be home to the tasty cream puff, as the sign on the building's exterior proudly indicates, there's more than just one kind of donut on offer.
Lemon, jelly, cherry and blueberry-stuffed donuts sit on shelves beneath the famed cream puffs, but in significantly lower quantities. On either side, other options including the honey dip and orange twists hang out. At the end, the day-olds sit on the 'reduced' rack near the entrance.
The racks of cream puffs lining the back wall of the bakery are topped up as they are pulled fresh from the oven on site. There are days when it seems there just simply aren't enough donuts to meet the demand and the bakery shelves are empty, particularly in summer months. In fact, you'll rarely find the famed cream puffs for sale on the reduced rack.
This Huron County institution opened in the 1800s as Curry's West Street Bakery, with Mel Culbert taking possession of the bakery in 1942 and changing the name to Culbert's Bakery. Today, Darin Culbert, grandson of the original Culbert's Bakery owner, owns the business and continues to bake fresh goodies on-site. Darin took over from his father, Barry Culbert.
The high glass cake counter is filled with shortbread cookies, including a variety with chocolate chips mixed in, gooey butter tarts, chocolates and treats that will tantalize the taste buds throughout the day. Need fresh bread or rolls? It wouldn't be a bakery without grabbing a loaf of bread fresh from the oven or sticky cinnamon buns to go.
While the bakery is open until 5 p.m. Tuesday to Saturday, it's best to call ahead for cream puff orders or risk disappointment. It's not uncommon to arrive mid-afternoon to empty donut racks. The glass cabinet of treats always seems to have some selection, just maybe not the one you thought you wanted. 49 West St., Goderich. www.culbertsbakery.com