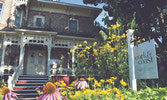 Goderich - Cork & Coast
For those looking to experience Huron County ingredients at their highest heights, Goderich's Cork & Coast is the place to be. The fine dining establishment inhabits a gorgeous heritage building just a few minutes walk from Courthouse Square, and even though Cork & Coast only opened in July, Chef Wyatt Ducharme and his team have already made a name for themselves with diners from both near and far. Born and raised in Brussels, the young chef takes the idea of local ingredients to heart.
Whichever road you take to get to Cork & Coast, you're almost certainly going to pass by at least one of the farms he sources ingredients from. Grazing Meadows in Brussels supplies all of the Wagyu beef you'll find on his menu, including the endless variety of roasts that they serve up every Sunday night, and Bayfield's Out of the Blue is their reputable source for all things seafood. Blyth Farm Cheese is found throughout the menu, and The Maitland Market outside of Goderich provides a lot of the seasonal vegetables that are a signature of Ducharme's ever changing menus.
The menu is divided into small and large plates, allowing diners to approach things as shared plates, individual meals, or some combination of the two. The whimsical approach to vegetables and the expert treatment of local lamb, beef, pork and chicken is a winning combination.
Cork & Coast's creative use of Huron County's summer abundance was a joyous feast, and their approach to fall and winter storage crops is certain to have its own moods and moments to intrigue diners. This fall also marks the beginning of Ducharme's experiments with making their charcuterie in-house, which is an exciting prospect.
The food is accompanied by an approachable but intriguing wine list, a small selection of local beers and ciders, and inventive vegetable-centric cocktails. Desserts change frequently, and are as difficult to choose between as anything else on the menu.
From start to finish, Cork & Coast is a dining experience worth stopping for. It's a perfect place to celebrate a special occasion, or to just celebrate all the great ingredients that can be found in and around Huron County.
Cork & Coast is open Wednesday through Sunday from 4:30 pm to 9:30 pm. Reservations can be made via phone (519-524-4171) or email (corkandcoastrestaurant@gmail.com), but walk-ins are welcomed whenever they can be accommodated. 80 Hamilton St., Goderich.