Coastal Coffee
by Lisa Boonstoppel-Pot,
Editor, The Rural Voice
There's a good vibe going on at Coastal Coffee near Kintail. It's a kind of hippy, West Coast, vibe, which is what owners Ben and Bri Gingerich are trying to cultivate.
There are two Volkswagon vans outside the former Presbyterian church, now home to the Gingerich family of five. Ducks, chickens and Guinea hens wander through the heirloom vegetable and flower gardens.
"We are seeing more people come to the café than we ever dreamed," says Ben. "We have become known as a culinary experience destination."
Ben grew up on his parents' organic mixed farm in Huron County and then headed to British Columbia for university and while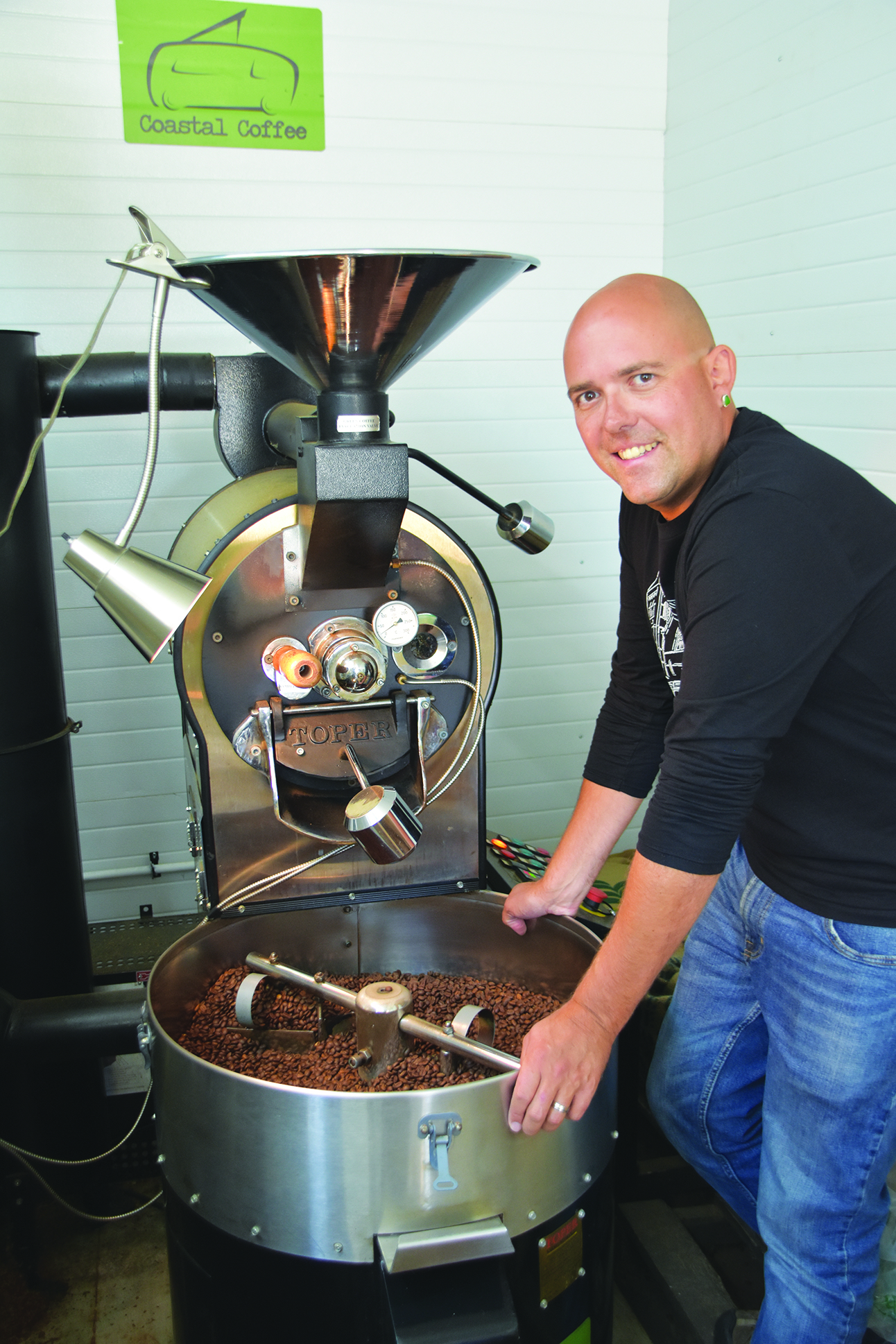 there, fell in love with both his wife Bri and the specialty coffee that seemed to be available everywhere.
The couple returned to Huron County and missed the coffee scene so, as a hobby, Ben started roasting his own coffee in their home and eventually developed and scaled up the coffee roasting business into a commercial operation, supplying restaurants and retail businesses.
During this time, they travelled to countries like Colombia and Costa Rica to search for premium, fair-trade coffees. Ben said they looked for coffee beans that were sustainably produced, sweet, well-processed and with a good body. "People artificially sweeten their coffee to make it enjoyable but our coffees do not need sugar," explains Ben.
Ben and Bri started selling coffee and brew out of the back of their Volkswagen Westfalia at local farmers' markets. They opened a roastery in Zurich in 2014 and a few years later, decided to sell their property and search for a unique home to house Coastal Coffee and their three children: Avery, Maeva and Boden.
When the Presbyterian church came on the market, the family fell in love with it on sight and were able to submit a successful real estate offer. Then the work began.
Once work began, Ben and Bri wanted the renovations to align with their health-focused, organic lifestyle. Natural products were chosen, including sheep wool for attic insulation and hemp batts for wall insulation. All the while they rode the balance between functionality and honouring the church's heritage features, such as the stained glass windows and interior lights. "This is a building that was open to the public for over 100 years," says Ben. "We wanted to be considerate of the affinity the community has for the building."
By the summer of 2020, the couple was selling coffee at their home/business, creating kitchen gardens, adding chickens and homeschooling their three children. Coastal Coffee continues to sell to restaurants, cafés and retailers while selling direct from the business and opening the cafe on Fridays and Saturdays. Light pastries and coffee-related gifts are also available for sale and they get about 300 people per week over eight hours in the summer months.
"This church was a community building for so long. If people can meet here and have coffee with a friend, then it is still a community space and that's important to us," says Bri.

It's meeting and having fun with their customers that reminds them how this all got started in the first place: wanting to create a West Coast vibe in Huron County by serving excellent coffee. 86252 Kintail Line, Just 10 minutes from Lucknow and 20 minutes from Goderich. www.coastalcoffeecompany.ca