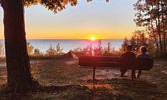 Camping at Point Farms
Once the site of a posh Victorian summer resort, Point Farms has been enticing visitors to relax and enjoy the lake breezes since the mid-1800s.
Point Farms Provincial Park was established in 1964 and is perched on a bluff overlooking Lake Huron and offers spectacular views of the famous sunsets.
From May to October, camping is offered in two campgrounds, Colborne and Huron, as well as a group camping area that consists of six large sites in a very private setting. Both areas offer spacious and private sites, with Colborne best suited for larger RVs, including a few pull-through sites. Comfort stations complete with laundry facilities are located in both campgrounds.
The large sandy beach is excellent for swimming and Point Farms offers one of the nicest dog beaches in the area. It should be noted that the road and trails down to the beach are quite steep, but there is a large parking lot at the beach making it easy to drive down to enjoy the day.
Point Farms offers three hiking trails. The longest is the 4.5 kilometer loop trail called The Old Farms Trail. It is rated as easy and you can take a leisurely walk through the park and see the former fields and orchards. The Below the Bluff Trail is a half-kilometer, easy walk through a mixed forest while you listen to the birds and the waves of Lake Huron. For the more intrepid hike, the one kilometer Ravine Trail is a moderately rugged trek along a ravine with rugged terrain and steep inclines and features a stair access to the beach below. While the park itself is closed from October through May, the trails can be accessed with parking near the gate.
Sunset photography is a popular activity on Lake Huron's shores, and the views from either the beach or the bluffs are amazing. The parkette in Huron campground can get quite crowded at dusk so arrive early and stake out your spot!
Reservations are available online at www.reservations.ontarioparks.com 82491 Bluewater Highway, Goderich