Bunker in the Bend
Four friends - Trevor Gibb, Travis Koolen, Jeff Krpan and Tony Kiriakopoulos - had frequently traveled to play indoor virtual golf and eventually were kicking around the idea of opening a facility right in Grand Bend, close to home for all of them.
The ideal building became available and, in between all of their full-time jobs and family responsibilities, they found the time to research the equipment and technology to find the best system. The plan came together in February of 2022 when they opened Bunker in the Bend.
The facility features three golf bays, including one VIP room that can host a private party of b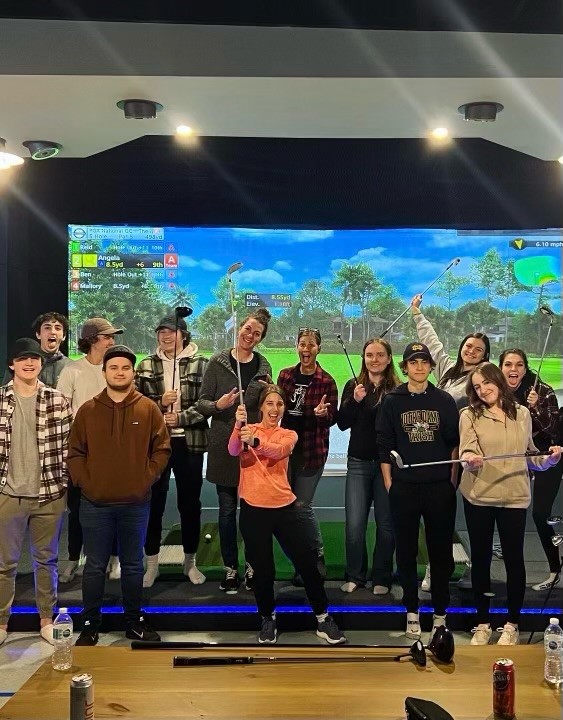 etween 12 and 14 people with two couches and a 70-inch screen television. The VIP room screen is 21 feet wide, making it one of the largest, if not the largest, in Canada.
There is also a "dry" fire shooting range with laser guns that replicate the feel of real rifles and pistols and a 16-foot screen to play the arcade and accuracy games that have been developed with the same technology that is used for law enforcement training modules.
The technology on hand for the golf simulators is pretty impressive, and includes a moving swing plate under the golfer's feet that tilts to match the lay of the course. There is a video playback of you taking your shot to help you improve your game. The games were developed in South Korea and feature many of the world's top golf courses, as well as driving ranges. While many people line up a round at St. Andrews or Pebble Beach, Gibb and Koolen are quick to note that those are some of the hardest holes in the world to play. A much more fun course to play on the simulator is "Life's Best". It is great for new players, or players who like to give their confidence a little boost!
You can bring your clubs or rent a set at the Bunker. It's a great way to introduce kids to the game without a big investment before they know if they want to stick with it.
Bunker in the Bend is fully licensed and, although it has no kitchen, they encourage guests to bring in their own food and sit a while in the lounge and watch a game on the big-screen TVs.
While walk-ins can sometimes be accommodated, it is best to make a plan and reserve a bay in advance. Booking is available online at its website. Bays are booked by the hour and it is recommended that if playing an 18-hole course you allow an hour per person playing in your group (maximum six people playing).
Want to book a children's birthday party or an office tournament? Just call to discuss your idea with the incredibly helpful and knowledgeable staff! 99 Ontario St S, Grand Bend. www.bunkerinthebend.com