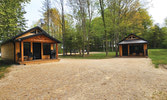 Blyth Trailway Cabins
Nestled in a small forest retreat between Blyth Road and the Goderich to Guelph Rail Trail (G2G), is a grouping of three new chalet-style cabins that began as a design using Becky Bosma's children's lego. While the Bosmas have owned the property for a number of years, the cabins were just built last year and officially opened in September 2022.
Each of the cabins has its own theme, but all have been designed with the trail user in mind. From the electric-vehicle charging station in the parking lot to the well-appointed accommodations, Blyth Trailway Cabins is the perfect midway rest stop or starting point for a G2G adventure. Electricity, showers, wifi - what more could a weary bicyclist ask for?!
All three cabins feature a kitchenette, three piece bath, bbq, fireplace and heat and air-conditioning to make it a four-season
retreat! The Greenlet has a "bikes & forest" theme; the Blythe focuses on all of the super local attractions, especially the Blyth Festival just a short ride from the property, and the Westia pays homage to the agricultural roots of Huron County.
Both the indoor and outdoor spaces are light and airy, giving weary bikers and hikers a welcome rest from the trail. A central firepit with comfy Adirondack chairs is an inviting place to share stories from the trip. Bosma often stocks a little welcome stash of firewood for guests, and there are several roadside stands nearby for replenishment.
The cabins have beautiful little touches supplied by local artisans like the "guitarcuterie" board made by Hans at the Wild Goose Studio or a sweet pottery bowl thrown on a wheel by Cat at Wonky Frog Studio, both just down the road in Blyth.
While called cabins, the guests are all raving about the beautiful design and modern amenities incorporated into all three buildings. Bosma says that it's like having three dollhouses to play with and shop for!
Bookings are available on the website, www.trailwaycabinsblyth.com and you can find them on Facebook or Instagram. 39709 Blyth Rd, Auburn (but it is really just outside of Blyth. Oh, Canada Post and Google maps - you amuse us!)