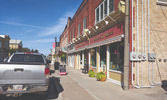 Blyth Friday Event
Blyth is known for its creative economy, with art galleries, a theatre and a host of artisanal businesses along its main street, but its people are just as creative.
The business owners are working together to promote their own version of the popular Black Friday sales that they are calling "Blyth Friday".
In an effort to encourage people to shop local, the shops in the Village of Blyth will stay open until 10 p.m. on Nov. 26. Rather than staring at a screen on Black Friday, take a walk or a drive to the heart of Blyth for in-store specials and events, buskers and a Victorian group of carollers. Have some fun in the community while getting an early start on your Christmas shopping in the village's unique and one-of-a-kind shops.
In the centre of the courtyard at Memorial Hall, at the heart of the village, the Blyth Festival has placed a large heart display that, while perfect for that #i♥blyth selfie, also reminds the public that this is a little town with a big heart.
The Blyth Friday event is the perfect way to "Shop Local, Shop Blyth" for all your Christmas needs on Nov. 26. Queen St. (Highway 4), Blyth