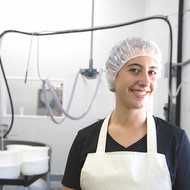 Blyth home to prizewinning artisan cheesemaker
On a small farm just south of the village of Blyth, the Van Dorp family has been producing some of the country's best goat cheese. Paul Van Dorp is the master cheese maker at the farm, as well as the owner of the business. He is helped along by cheesemaker and sales manager Sarah Reid and technical assistant Leendert Van Dorp.
The Van Dorps began making cheese commercially in 2012 and their cheese instantly stood out as a hard goat cheese in a world of soft goat cheese. The cheese was quickly adopted by local restaurants and shops, but it has impressed those even further afield as well.
In the years since, the fruits of Blyth Farm Cheese's labour have been awarded at various levels. In 2014, the company's gouda was named the best in Canada at the inaugural Canadian Cheese Awards, held in Toronto.
Blyth Farm Cheese would then go on to sweep the flavoured goat and sheep cheese class at the Royal Agricultural Winter Fair, taking all three of the category's top spots, in both of its first two years. In the years that would follow, the company has been awarded consistently at the Royal, including being named Grand Champion in the goat and sheep milk variety cheese class thanks to its Golden Blyth variety.
For more information, visit blythfarmcheese.ca.