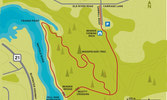 Bayfield Trails are a unique system
As one of the most scenic areas in all of Huron County, it's no surprise that Bayfield is home to one of the most intricate trail systems in the area.
The trail system is perfect for travellers of all skill and fitness levels, ideal for walking, cross-country running and snowshoeing. The trails vary in length from one kilometre all the way up to five. There are five trails to occupy those in love with the outdoors.
The Woodland Trail's path just changed recently. It is a five-kilometre route that is of medium difficulty and features old lumbering roads and deer paths.
The Heritage Trail includes eight historic storyboards along the way, placed at points of interest along the trail, beginning at Clan Gregor Square, the heart of the Bayfield community. The Heritage Trail measures 2.5 kilometres in length.
The third trail in the system is a combination of two small trails that comprise the Varna Nature Trails: The Mavis Trail and the Taylor Trail. The Mavis Trail measures 2.5 kilometres, while the Taylor Trail is one kilometre long. The Mavis Trail is classified as being challenging, while the Taylor Trail is flat and ideal for joggers, fitness enthusiasts and pet owners.
The Sawmill Trail is at the top of Old River Road and is two kilometres of stories pertaining to the community, covering everything from ghosts to fires to floods.
The final "trail" is a natural area called the River Flats, which is a 4.75-acre riverside property managed by the Bayfield River Valley Trail Association.
For more information on the trails, visit bayfieldtrails.com.