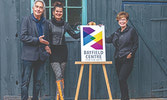 Bayfield Centre for the Arts
Plans for the Bayfield Centre for the Arts have been underway for quite some time. A recent substantial donation from Mac Voisin and Marcela Bahar has allowed the group to purchase a property on Highway 21, at the south end of Bayfield, to be developed as a base for the project.
Future plans include a gallery space for local and touring visual artists, classes, workshops, speakers and even a mobile art truck that will bring hands-on art experiences to locations across the county.
Working with artists and spaces across many communities is also built into the plan. By partnering with existing studios and venues, the organization hopes to expand its reach into all corners of Huron County and offer even more diverse opportunities to experience visual arts.
While the pandemic has slowed some of the immediate plans, it also gives the organizers time to raise additional funds and begin the structural work of the future location.
If you have an interest in becoming involved in this exciting project you can check out the website at www.bayfieldarts.ca where you can already find listings for some classes and upcoming events, or you can offer to help or donate. For any additional information please reach out to them via e-mail at hello@bayfieldarts.ca