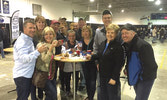 Bayfield Beer & Food Festival
The Bayfield Beer & Food Festival is the largest fundraising event of the year for the Bayfield Community Centre. In 2018, the municipality announced that they would no longer support the local arena and community centre but allowed a group of concerned citizens to form a group that would commit to its ongoing operation which spurred the creation of two groups - Bayfield Arena Community Partners (BACPA) and Bayfield Facility Initiative Team (BFIT),
The festival is a joint initiative between the two groups and together they transform the humble arena for one day each spring into the premier foodie event of Huron County. It was the first celebration of its type locally and is still the largest festival in Huron County that celebrates local beer, wine, spirits and food.
This year, Bill Whetstone, one of the founding organizers, says that they expect 22 vendors and three bands to participate on May 13 from 2 pm to 9 pm. While the local staples will be in attendance, Whetstone is looking forward to some fresh faces, including the new Bayfield Tandoori restaurant and a few new breweries, including Neustadt Springs Brewery.
Regular tickets are $45 and provide eight food tickets and eight beverage tickets, along with a commemorative glass. Designated driver tickets are also available and feature just the food tickets (and the glass) to encourage responsible enjoyment for everyone.
One of the most surprising elements of the day is the transformation of the arena. The committee invests in the decor to make the event even more memorable. The bands help create an atmosphere that is inviting and in fact, many guests stay for the full event. Entertainment this year includes popular local acts Side Road Reunion, Darryl Romphf and Steph and the RoadHounds.
While the event was canceled in 2020, and moved to September to accommodate the pandemic in 2021, last year saw the return of the spring festival.
The event has become an annual homecoming for many residents and cottagers, with many considering it the unofficial kickoff to summer. With only 1200 tickets available, the event typically sells by the end of April so don't delay.
Tickets are available at www.eventbrite.ca Follow the event on social media for updates!
Bayfield Community Centre, 4 Jane St, Bayfield.