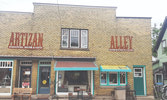 Artizan Alley
While the lockdowns caused by the COVID-19 pandemic have wreaked havoc on the stress level of Artizan Alley's owner Shanon Waht, there have also been some wonderful opportunities that have kept him going through the long weeks of closures.
The store is a year-round craft market with the best the area has to offer. In fact, vendors have been clamouring to get a space in the store, especially with traditional craft shows and sales being shuttered due to the pandemic. You will now find over 50 local vendors who create handmade and unique items.
Waht has been impressed with the wide variety of talents and skills that he has been able to find in the area - everything from traditional knitted items, driftwood art and wooden signs to interesting vintage and salvaged items. His own specialty is custom furniture and woodworking and upcycled projects that he can create for you with your input into colour and design.
Waht is open about his lifelong battle with depression, and the past year and a half spent trying to nurture a fledgling business through an unprecedented time has not been easy. Each time he would get a little momentum going, another wave of COVID-19 would hit the province and cause the government to implement restrictions and lockdowns.
The thing that has kept him going is the community that has built up around the indoor market. The co-operative of vendors
has sustained him by offering support and checking in with him and each other throughout this long haul. The customers flocked to buy at Christmas and remained loyal to the business model. He credits his dog Sawdust with keeping him going and being his best "employee".
Like many businesses, online sales through auctions nurtured Artizan Alley through the worst of it, but now Waht is finding that the public is keen to get back to in-person shopping and the store will be great "retail therapy" when it's allowed to open. With so many independent vendors creating one-of-a-kind items, the store is constantly changing. Stop in to see what's new and say hi to Sawdust. 18 Goshen St N, Zurich. www.artizan-alley.com