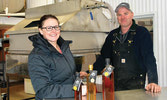 Amalgamation Acres and Legacy Maple Syrup
Amalgamation Acres, featuring Legacy Maple Syrup, is the product of Annette and Brian MacKenzie, who joined forces in both marriage and farming in 2012. Since the home property had 60 acres of maple bush, one spring they decided to show the kids how maple syrup was produced, and ended up getting hooked on the production. That first year, it was just a couple of trees, then 50 the next year, then 100 and then 250. Then, since Annette's dad had a long association with steam engines, they tried an experiment to see how steam power could help the process and suddenly they had their brand and vision. The legacy power system became the driving force behind Legacy Maple Syrup. They have stuck with it, as they love the combination of old and new - using the steam power with modern reverse osmosis to create a truly innovative system.
They sell the Legacy Maple Syrup at their own on-farm store, The Farm Shoppe. In addition to the maple syrup, Annette also sells ungraded, straight-off-the-farm brown eggs and meat by pre-order (humanely-raised chicken, beef and pork).
The store features local heritage handcrafts from local, provincial and Canadian producers, as well as carrying well-known brands such as Watkins Products and baking mixes from Orange Crate Food Company. The inventory is constantly growing and evolving, including kitchen items and giftware. Other than a short break in the first few weeks in January, the store is open year-round on Thursdays from 10 a.m. to 5 p.m., Fridays from 10 a.m. to 5 p.m. and Saturdays from 9 a.m. to 3 p.m.
The best time to visit the farm is when the sap starts flowing. Mother Nature is the only one who can predict when that might be, so keep your eye on Facebook and Instagram for updates. Farm tours are available by appointment. www.amalgamationacres.com 519-528-5995. 85399 St. Helens Line, Lucknow