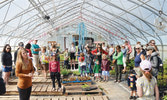 Ag Tours - Eat Local Huron Farm Crawl
Eat Local Huron began as a non-profit organization that created an online market to connect local producers to local customers. Katrina McQuail of Meeting Place Organic Farm, who is also a board member for the organization, had a dream to connect those customers to the farms in an even more meaningful way by inviting them to visit the farms and meet the farmers.
The organization applied for some tourism grant money to start the project and Huron County came on board with some support through its SLED (Supporting Local Economic Development) program.
The Farm Crawl program for 2022 consists of five crawls, each focusing on different producers and moving people around the county. The summer crawls had visitors meeting piglets at Meeting Place, tasting delicious coffee at Coastal Coffee, learning about market gardening at Firmly Rooted and stocking up on tasty strawberries at Morrison Berries. All of the producers are passionate about local foods and telling their stories.
Amy Thomasson, board member and the Farm Crawl Co-ordinator, has organized two more crawls to finish up the season. The October Crawl is scheduled for Oct. 15 and Trick's Creek Farm and Farm Little have confirmed their participation as of press time, with each of the producers planning on different activities to introduce you to their products.
The final 2022 Farm Crawl is planning something a little different. With colder weather setting in, Thomasson is planning a Christmas market on Nov. 12 with many of Eat Local Huron's producers participating in a pop-up store. Depending on the number of vendors, the market will take place in a barn at Meeting Place or move to a bigger facility, like the Regional Equine and Agricultural Centre of Huron (REACH) in Clinton. There likely will be a property walk-through with a nearby farm, but with winter setting in, the focus will be on the indoor market.
Thanks to the support of the county and the tourism grant, the tours have been kept affordable, adopting a pay-what-you-can strategy with a suggested ticket price of $17.50 per person.
If you have never been to a local farm or connected with a farmer who grows your food, then these tours are an excellent way to get to know how your food gets from the field to your table!
Tickets are available at their website, along with their online store www.eatlocalhuron.ca