Winter Weekend Getaway
While the Town of Goderich may be top of mind as a vacation destination in the summer because of the beautiful beaches and festivals, don't be so quick to dismiss it as a great place to get away from the city in the middle of winter. With a range of accommodations, tons of natural features and an excellent downtown with shopping, restaurants and bars, Goderich should be on your staycation list this year!
We've designed a sample itinerary, perfect for anyone who wants to find a place to take in a long weekend without breaking the bank or finding their passport.
While cottage rentals and quirky Airbnb accommodations are the first thing most travelers think of when they go to book, there is much to be still said for traditional hotel and motel accommodations. Goderich has a wide range of options, including a Comfort Inn & Suites (135 Gibbons St) that is close to downtown. With reasonably priced rooms that include a hot breakfast, access to a business centre and an indoor pool, it could be the perfect base for your winter weekend.
Arrive Friday afternoon and check in and unpack, leaving lots of time to freshen up before you head out for dinner and some entertainment. The locals know that the place to be on a Friday night is the aptly named Joe Friday's, a pub and restaurant that is part of the Hotel Bedford complex (92 Courthouse Square). It features a great selection of platters and pints, along with a stand-up bar, up-beat music, a dance floor, and live music most Fridays.
On Saturday morning, head back up to The Square for a hearty breakfast sandwich and a latte at Cait's Cafe (168 Courthouse Square). "Shopping the Square" is an activity that is best handled well-fueled. The Square is actually an octagon, with a beautiful courthouse and park in the centre and eight blocks of shops and services on the outside and a one-way, three-lane street in between. There is literally something for everyone to be found in these eight blocks from clothing to books to locally sourced groceries. There are banks, restaurants, bars, jewellery stores and a cannabis shop. For the adventurous, don't miss the latest trends in bikes, paddleboards and yoga gear.
We've allocated a morning for shopping, but you are welcome to return at any point in your weekend to take in anything you missed.
We're going to move you to the northwest edge of town for lunch with a view. River Run Restaurant, located at the Maitland Golf Course (25 North Harbour Rd E) is a great spot to dine with a menu featuring a European flair (think schnitzels!) and sweeping views of the Maitland River. (The restaurant does take January off to recuperate from the busy summer, fall and Christmas seasons, but is back in February and March!)
One of our favourite places to visit any time of the year is the Huron County Museum (110 North St.). Permanent exhibitions feature early settlement, agriculture and military galleries. including a full-sized steam locomotive central to the building. A variety of temporary exhibitions throughout the year investigate and explore topics of local significance. Don't miss the History Hall. Here you will discover "Main Street Huron" in this gallery featuring late 19th and early 20th century businesses and services of a community. Central to the exhibit is the full-sized 1913 steam locomotive engine.
At the end of Parsons Court and accessed from the parking lot at the Columbus Centre (390 Parsons Crt) at the southeast end of Goderich, lies a hidden gem. The Maitland Woods Trail is one of the nicest urban trails you'll find. It is a three-kilometre loop trail through a forest with diverse habitats. It is relatively flat, with wide trails and many boardwalks, making it an easy walk, even in winter and, at three kilometres, you should be able to complete it in under an hour.
You may not be hungry yet, but trust us on this one. On your way back from your hike, stop at Culbert's Bakery (49 West St.). Hopefully, the Saturday morning line-up has subsided and you can get right in to try their famous Culbert Cream Puff and a cup of locally-roasted coffee.
After a break back at the hotel to warm up and change, we suggest that you make a reservation at Part II Bistro to begin your Saturday evening. Chef and owner Peter Gusso has put together a fine dining experience that is relaxing and intimate. The menu specializes in locally-sourced items, and they do them extremely well.
You can't do Goderich without raising a pint in the oldest building in town (and one of the oldest still standing in Canada). The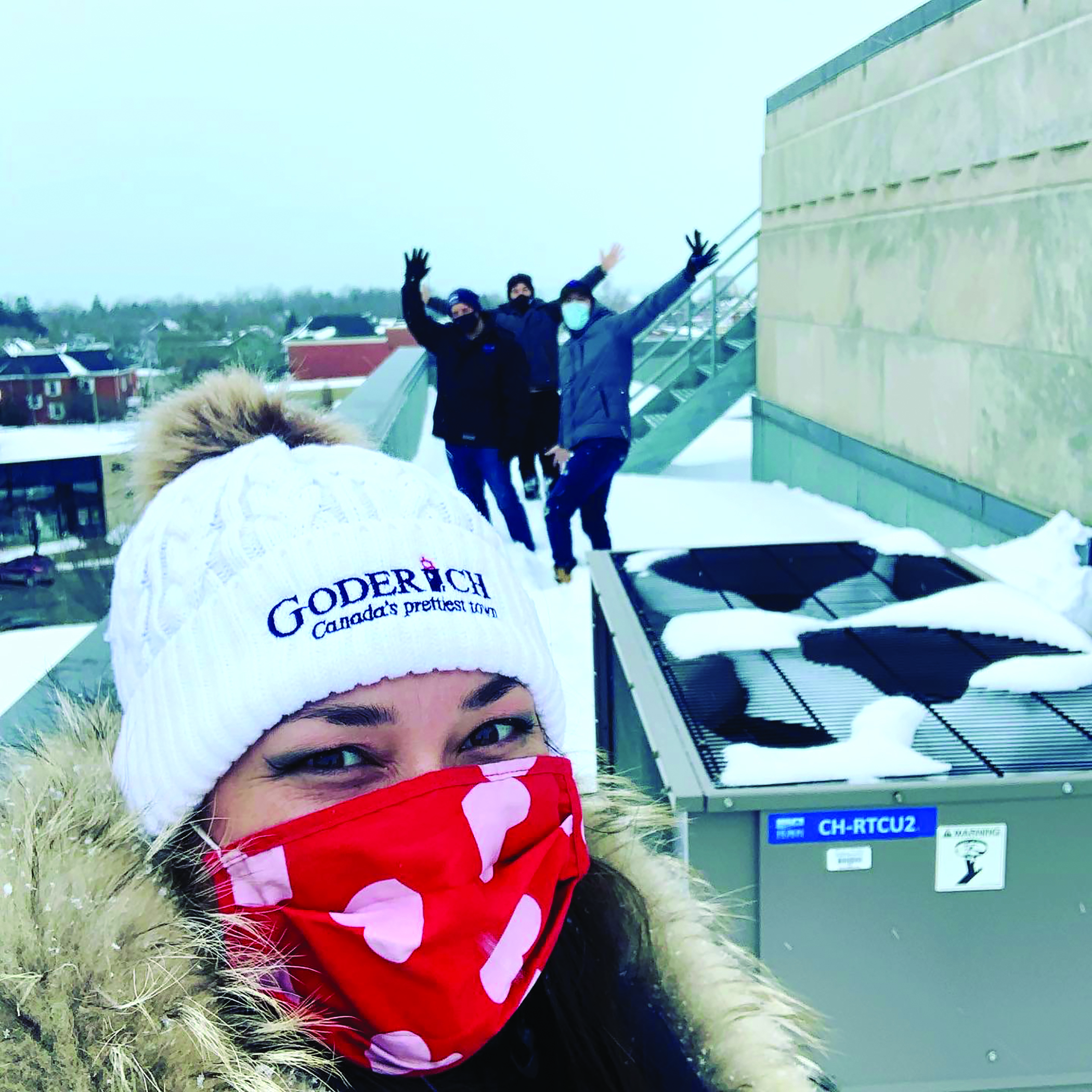 Park House (168 West St.) was built around 1837 and boasts a view of the lake and the adjacent Harbour Park from the windows of the dining room. It's a great place to spend the evening, especially if you happen to hit one of the many evenings when it offers live, local talent to entertain the crowd.
There's only one thing better than a relaxing Sunday morning with no alarm clock and that's brunch at West Street Willy's (42 West St.) . There may be a wait for a table, but it's well worth it. If you're having trouble deciding between the West Street Benny (mushrooms and spinach with eggs benedict) or the Morning After Poutine, why not order one of each and share? We'll help you wear it off with a load of activities for the rest of the day.
We're not sure why people stop going to the beach in winter. You may not need a bathing suit or a towel, but you will definitely need your camera. Mother Nature delights in throwing up incredible scenes and the ice sculptures she creates can be incredible. Take a drive down to St. Christopher's Beach and enjoy Lake Huron's shoreline with her winter coat on.
Winter can't stop the avid golfer in Goderich. You can work on your swing from the comfort of the fully-licensed Fore on the Floor (390 Macewan St.). We recommend that you book your tee time in advance, to make sure you can squeeze in a round this weekend.
Just before you go to dinner, we advise you to swing down to the beach for one last look. Time your visit to when the sun is about to dip below the horizon and witness another of Goderich's famous sunsets. (Some of us think that the winter sunset over the ice is actually prettier than the famous summer sunsets!)
For your final dinner, we are asking you to go along with us and think outside the box. The Goderich Harbour Restaurant (111 North Harbour Rd W), locally known as the Old Saltie, is open year-round for take-out. This is about the most honest fish and chip dinner you will find, fresh fish with perfectly seasoned batter and hand cut fries. The selection of salt flavours they have is worth the visit alone. Grab your fish and chips and if the evening is nice, either eat from your car admiring the moonlight on the icy lake, or head back to your hotel room to enjoy the meal.
Sunday night is a good time to unwind and perhaps sort through your shopping to get it ready to pack up.
Now that you've discovered all that Goderich can offer in every season, you will need to come back to take in everything you missed!