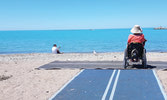 Accessible Huron
By Julie Sawchuk
As I write "accessible places to go in Huron this summer," it is the middle of winter — the most difficult time to get around as a wheelchair user. It's not just getting through the snow and safely over the ice, it's all the salt and sand that stick to my wheels and come back in through the door with me when I get back home. Get out the vacuum and the mop, again. Sigh.
Spring will be here soon; I sooo look forward to getting out and about more easily. As we all look forward to getting out with greater ease of mobility, less clothing and safer driving, I thought I'd share with you the places that I know, from my personal experience, are very accessible. This way you, too, can make your plans for getting out in Huron County in the warmer seasons.
It becomes obvious once you think about it, but you may not have realized that the first barrier to accessibility is actually information. Knowing how accessible a place is really only comes from experiencing it. For people who use a mobility device (wheelchair, walker, cane, scooter, crutches, etc.), barriers exist in ways that able-bodied people don't often notice. A single step, a narrow or heavy door, a too-small bathroom — all these obstacles can ruin a good day out.
As you look for places to go for yourself or the people in your life who require accessible buildings and outdoor spaces, you can use my advice and recommendations to plan your Huron County outings with confidence.
Did you know that one quarter of Canadians identify as having a disability? Permanent or temporary, at some point in everyone's life, we all will benefit from the energy that can be saved from having spaces and services that are accessible.
Coffee Everyone?
Looking for a good cup of coffee, and not from a paper cup? Make time to stop for coffee and enjoy the atmosphere at my two favourite coffee shops in the county because they also have amazing baked goods and accessible washrooms — drinking
coffee definitely requires bathroom access! You can sit and knit, work the day away with great internet, read, or just watch the world go by.
Accessibility: At both locations you will find a no-step entrance, easy to open door, variety of seating options, washrooms with appropriate grab bars and space for your mobility device.
Locations:
Brød Bakery, 430 Queen St., Blyth; www.brod.ca
Cait's Café, 168 Courthouse Sq., Goderich; www.caitscafe.ca
On the Menu
Cowbell Brewing Co. is the destination brewery designed with accessibility in mind. Tour the brewery, sample the wares (beer, wine, cider and seltzers), dine in the restaurant, play table tennis in the games room and, of course, use the fully-accessible washrooms (complete with adult-size change table).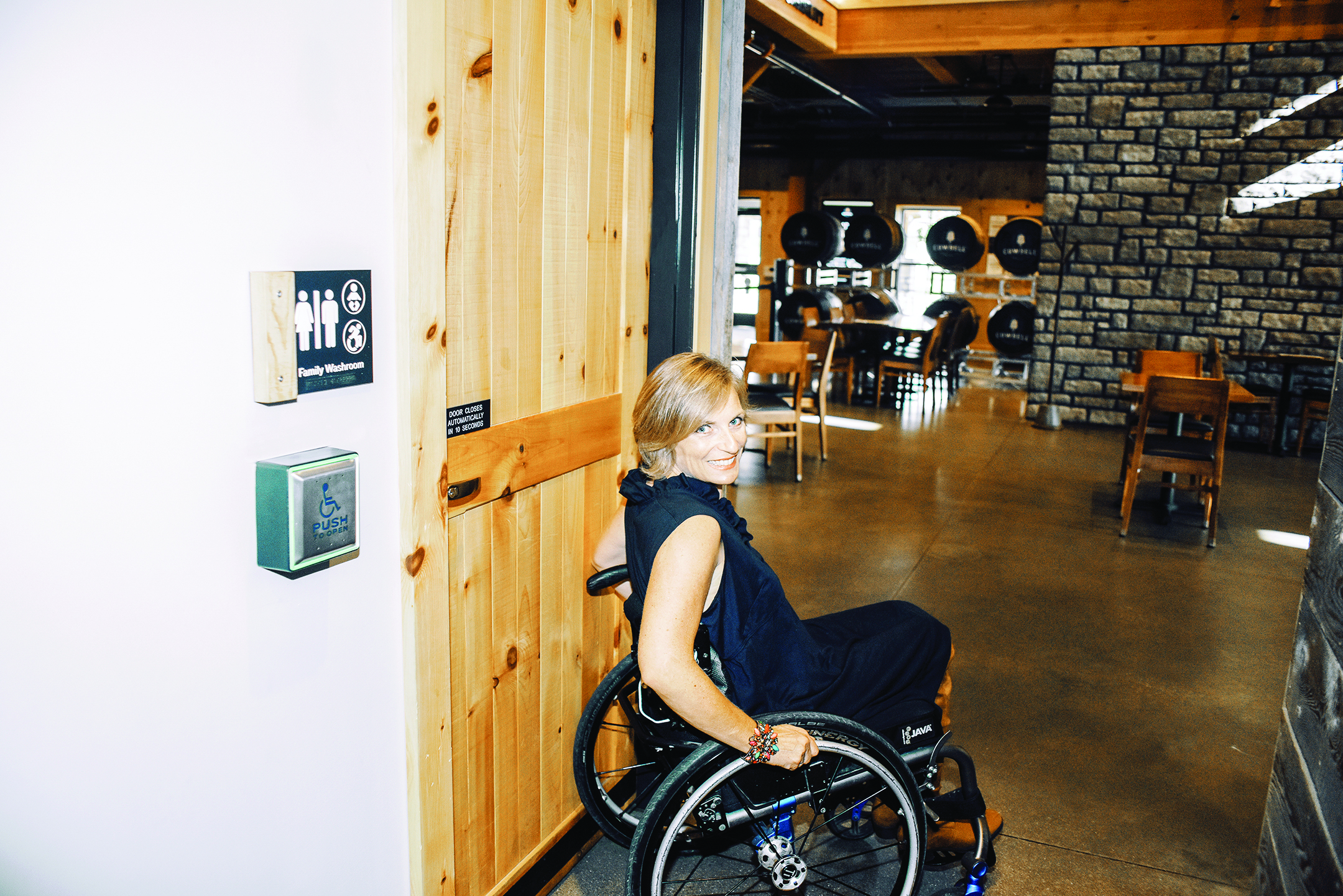 At Dark House Estate Winery you have an opportunity to drink wine and taste food grown right from the soil at your feet while you watch the sun set. You can also choose to make it a place for a special celebration.
Accessibility: Both locations provide accessible parking, washrooms and tours of their facilities.
Locations:
Cowbell Brewing Company, 40035 Blyth Rd, Blyth; cowbellbrewing.com
Dark Horse Estate Winery, 70665 B Line, Grand Bend www.darkhorseestatewinery.com
Matinee or Mainstage?
Are you up for some on-stage entertainment? With lots of laughs, great music, assorted stories or a tour back in time, you have options! Both the Blyth Festival and the Huron County Playhouse (Grand Bend) have something for everyone. And I truly mean that. I have attended many shows in both locations and have been abundantly satisfied by both the shows and the accommodations they provide.
Accessibility: Blyth Memorial Hall is equipped with an elevator and the Blyth Festival Harvest Stage provides seating spaces at a variety of levels and locations in the audience and has an accessible port-a-potty adjacent to the accessible parking (call in advance to reserve accessible parking). Both theatres have a variety of accessible seating options (call to book wheelchair seating) as well as Universal Washrooms (no adult size change table). Drop-off and accessible parking are available. Infrared hearing devices are available for no extra charge and can be picked up at the Box Office.
Locations:
Huron County Playhouse, 70689 B Line, Grand Bend; huroncountryplayhouse.com
Blyth Festival, 423 Queen St., Blyth; blythfestival.com
The Great Outdoors
My absolutely favourite thing to do in Goderich (when it's not raining or too windy) is to roll on the Boardwalk. Along Lake Huron, the 1.5 km long, wooden plank surface runs the full length of the beach. It has a gentle slope at the north end, but is mostly very level for the full distance and there are benches to rest on all along the way. It's wide enough for several people to walk or roll
side by side. With a small bit of grass to cross, you can also enjoy the view from the shade in two picnic shelters. The Main Beach is also home to a variety of play structures for kids, including a ramped access and a disability-friendly swing. The best part of all are the two Mobi-Mats that allow someone using a mobility device to roll or walk right on top of the sand from the parking lot almost to the edge of the water. Located on Main Beach and Rotary Cove.
Accessibility: Beachside, there are multiple areas where accessible parking is provided with direct access to the boardwalk and there are three pavilions that have accessible-size washroom stalls. Main Beach has a Universal Washroom with a baby-size change table and power door opener.
Location: 279 Harbour St. Goderich; goderich.ca
The Seaforth Splash Pad is a brand new play place built by the local Lions and will be open for the first time in Spring 2023. The solid, level surface allows direct access from the picnic shelter. Water features of all sorts and at a variety of heights will keep everyone cool.
Accessibility: Level to parking lot through picnic shelter; no accessible washroom on site.
Location: 42971 Huron Rd., Seaforth
Trail time
Are you up for a short loop or looking to go the distance? Level land is what's best for me, so here is what I recommend you try: two routes that are flat and wide and take you through the countryside. The Goderich to Guelph Rail Trail is the ticket for both hiking and biking — all non-motorized wheels are welcome. Start in Blyth under the water tower or at any side road. Once we open up the tunnel and install the last bridge, we'll all be able to travel the full distance to Goderich with no obstacles! Looking for a short hike in the woods that's way closer than you realize? Check out Hay's Tract, a half-kilometer loop designed by Huron County Forests to specifically provide accessibility in nature! Spend a quiet afternoon in the woods to witness the seasonal changes of flora and fauna.
Accessibility: Parking is gravel or compacted stone dust; G2G sideroad crossings are mostly shoulder parking only. There are outhouses sprinkled along the way, and they are working on providing larger, accessible port-a-potties for the coming season. Hay's Tract has designated parking; no washrooms are provided on site.
Locations: G2G runs more or less parallel to County Road 25 (east of Blyth to the north; west of Blyth to the south) www.g2grailtrail.com
Hay's tract is # 33970 Union Road, west of Highway 21, just south of Goderich
Need Gas?
If you start your trip with less than a full tank, you are in luck. Full service gas stations are still available in Huron County!
Locations:
Esso: 9 Main St. South, Bayfield
Shell: 238 Albert St., Clinton
Solo Petrol: 397 Bayfield Rd., Goderich
About Julie
I find out how accessible a place is by trial and error. I'll give a business or organization one try, and if it works for me (parking, entrance, washrooms and services), I'll be back. If not, I won't. How many people have missed out on coming back to your business because it was not as accessible as it needs to be? Better yet, are you sharing information about how accessible your space actually is? Many people like to plan their activities before they even leave the house, but if they can't find the details, they may not stop by! Check out AccessNow.com to find places that are accessible in your area or to get your spaces listed today.
Need some help? Invite Julie to your space to see how it shapes up. Julie Sawchuk is an accessibility educator and strategist and CEO of Sawchuk Accessible Solutions. Visit www.juliesawchuk.ca to learn more.