Shop & Eat Local
By Nancy Fisher,
Food Columnist, The Rural Voice
The summer of 2020 will be one we all remember, but probably not in the usual way people look back at summers gone by. There may be fewer concerts and ball games, but more backyard nights and star gazing. Fewer far-flung vacations, and more nights at home snuggled under a blanket watching a favourite old movie. Many of us are doing a lot of reflecting, counting our blessings and redefining our idea of summertime celebrations.
Here in Huron County, our blessings are many, including some of the finest local food on offer. While it may seem like "local food" is a catchy new phrase used by marketing companies, living in the heart of farm country, we have always had access to a wide variety of options right on our doorstep. We can truly see the local items all around us, and talk to the people who grow, produce and create them. A quick drive around the county can fill your backseat with a feast.
Sometimes the things closest to you are the things you walk right by. So maybe this summer of less travel is a good opportunity to bring our focus to all the great stuff we have right in our own backyard. We can all do our part to support our friends, families and local businesses.
It's heartwarming to see so many of the local businesses supporting each other, and it's smart too. The market on the corner less than a mile from my house not only has items grown and baked right there, but it carries a large assortment of other brands from in and around Huron County. I can easily pick up almost everything I need for a great dinner in one stop.
As the season progresses, there will be more and more produce options, locally preserved items and others frozen to keep through the winter ahead. I get quality, convenience and a friendly chat with a neighbour all while supporting the broader local economy.
Recently I pulled together an amazingly simple meal made with mostly local ingredients.
You can't beat a smoked pork chop for ease of preparation and big impact taste. By simply grilling it on a barbeque you enhance that smoky taste and get to practise your grill mark technique. These smoked pork chops came from Metzger Meat Products and I always love that company's products. I topped the chop with a very tasty peach and red pepper chutney from Zehr's Country Market just south of Bayfield. The market has many shelves of tasty jams, relishes and chutneys that can enhance any meal. I find this peach and red pepper chutney goes with lots of different items, I may even test it out inside my next grilled cheese sandwich.
It pays to check for where your food is grown, no matter where you purchase it. And we have so many options; from farm-gate to farmers' markets, butcher shops to grocery stores, the local producers, growers and brands are out there and will reward you with quality.
Nothing says summer meals like a simple potato salad; such a versatile dish with so many variations. You can use leftovers or fresh boiled local potatoes.
As summer progresses tiny new potatoes can't be any simpler to find or prepare. Don't miss the Goderich Farmers' Market on Saturday mornings, as there will be sure to be vendors with them in stock by late June or early July. I often toss a few mint leaves right into the pot as I boil them.
For a basic but tasty potato salad, I combined approximately four cups of cooked potatoes, two tablespoons of chopped chives, with half a cup of mayonnaise and a heaping teaspoon of spicy mustard. Season with salt, pepper and a dash of paprika. Adjust the amounts of mayonnaise and seasonings to your taste. I served this on a bed of local greens. Firmly Rooted Farm from Belgrave area has made a name for itself for its greens, supplying many of the best restaurants in the area. Firmly Rooted can be found at the Bayfield Farmers' Market's online ordering site or at its own website.
Tomato tart made with frozen puff pastry is simple, yet it looks impressive. For this meal, I simply used frozen puff pastry (a staple I am never without) as the base for a couple of different flavours of tart. After unrolling the pastry on a baking sheet lined with parchment paper, I split it in half and gently separated it. Using the tip of a paring knife, score a line around the outside about half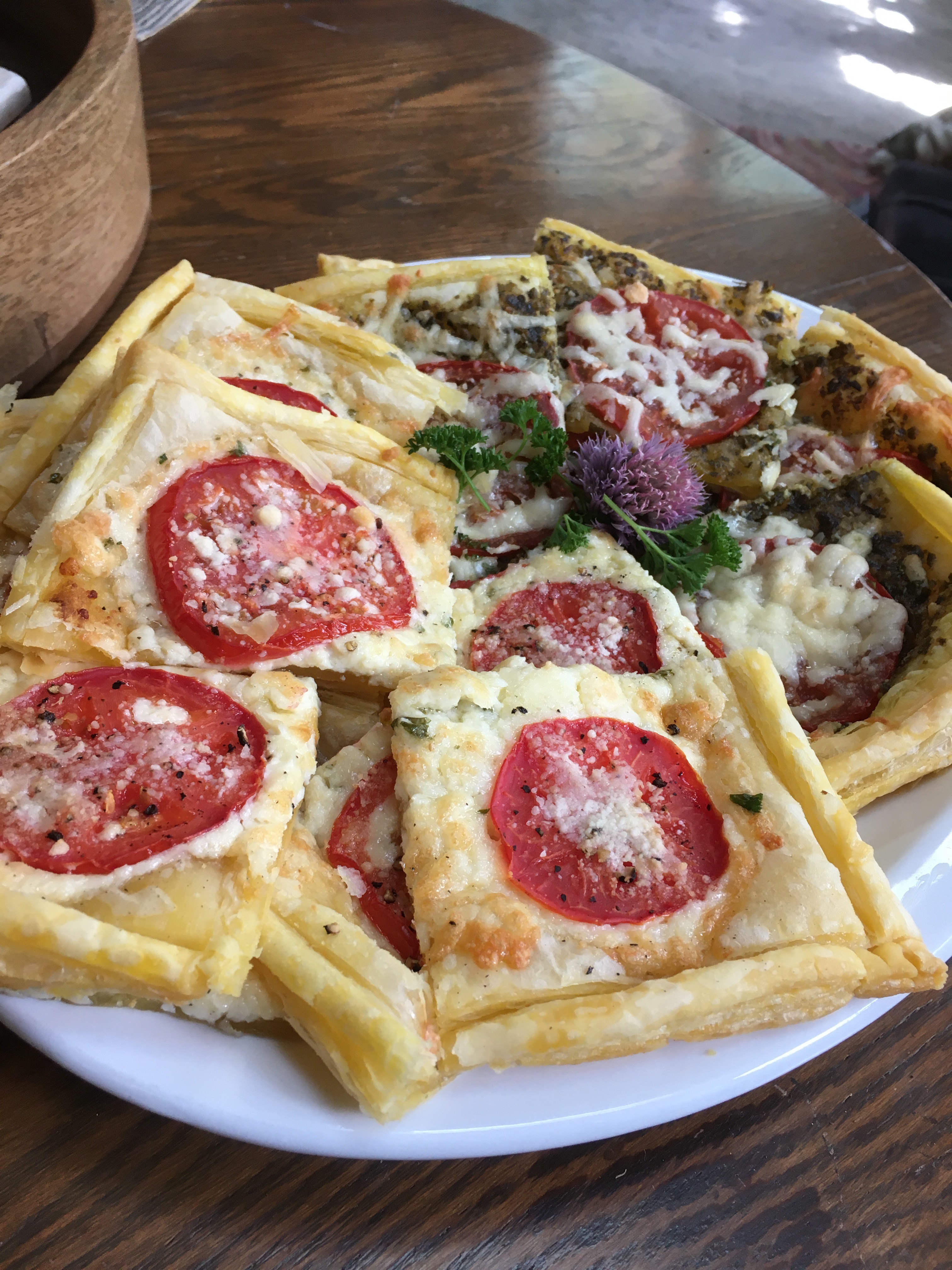 inch from the edge of the pastry. Be careful to not cut all the way through. Then with the tip of the knife poke the centre of the pastry a few times to prevent it from over-rising. Bake at 425°F for about 10 minutes to set the crispness. The edge should just start to rise a little higher than the middle.
Meanwhile, thinly slice your tomatoes and season lightly. Tomato season is what makes summer glorious. The varieties of tomatoes available now amazes me, and for this tart it doesn't matter which size or shape they are.
We are lucky to have so many sources of tomatoes in this area, and roadside stands are a great way to find them. Many farmers are selling right from their farm-gate. Hillsview Farm which sets up in Clinton right next to Tim Hortons on Fridays and in Austin's Appliances parking lot in Goderich on Wednesdays and Saturdays.
Remove the tart shells from the oven, cool slightly and spread with either pesto (you can make your own, but many of the bottled ones are quite good) or some shredded white cheddar with a bit of mayonnaise and fresh thyme. Or if you're feeling adventurous, Say Cheese (you can find them on Facebook) carries some yummy local goat cheese called Stonetown from nearby St. Marys or try Huron County producer Blyth Farm Cheese. Place the sliced tomatoes on top and sprinkle with more cheese. Then pop back in the oven and bake until the pastry is crispy brown and the cheese melts. Slice and serve while warm, though the leftovers can be quite good.
Summertime cooking should be all about enjoying the fresh flavours of the foods growing around us. It does not have to be complicated; so many of the best foods are served with little to no preparation.
Prepared foods created right here in Huron County are also plentiful if you want an easy dinner. Now is a great time to get the whole family involved in the meal planning, quick road trips to grab what you need, cooking and enjoying the best that Huron County has to offer. These vendors are just a few of the many choices you can find right here.
For a few more great options, check out our "a Taste of Huron County" on page 20 & 21 in the printed guide.